Eahora Knight M1PS - Orange
In stock now, ships within 1-2 Days.
ABOUT M1PS

Unleash unstoppable power with the M1PS electric chopper, boasting an impressive 4000W motor and Samsung battery. Tackle any terrain with ease, from smooth pavement to rugged trails. Built for power, agility, and ruggedness, you'll experience unparalleled performance every time you hit the streets. Ready to turn heads with its sleek chopper design and lightning-fast speeds, the M1PS is a force to be reckoned with.
WHAT'S IN THE PACKAGE

Delivered with 85% assembled:
Scooter & Battery;
Original charger & Fast charging cable;
Handlebar & Handlebar mount clamp;
Pedals & Extension bracket;
Front tire & Front fenders;
Display & Phone holder & Rearview mirror ;
Product manual & Toolkit & Remote control & Key.
Assembly Video
Street-Legal
All Eahora scooter comes with VIN, MCO, and Bill of sale
Free Shipping
Average five-day delivery
1-Year Warrnaty
Technical support with high-quality standard
Electronic System

4000W UPGRADED MOTOR

The build-in high-performance motor with 4000W accelerates M1PS scooter to the top of 178NM, providing an effortless experience on fast climbing or rough road. Enjoy speed, enjoy passion, enjoy fun!

Torque: 178N.m

Gradeability: 30°

Electronic System

SAMSUNG BATTERY

Equipped with a gigantic lithium battery, the M1PS gives you a range of 75 miles. The removable battery allows you to charge anytime when you have access to a power outlet. Extended range and easily charge enables you travel with peace of mind on long trips.

Range: 65 - 75 Miles (Level 1)

Parameter: 72V 40Ah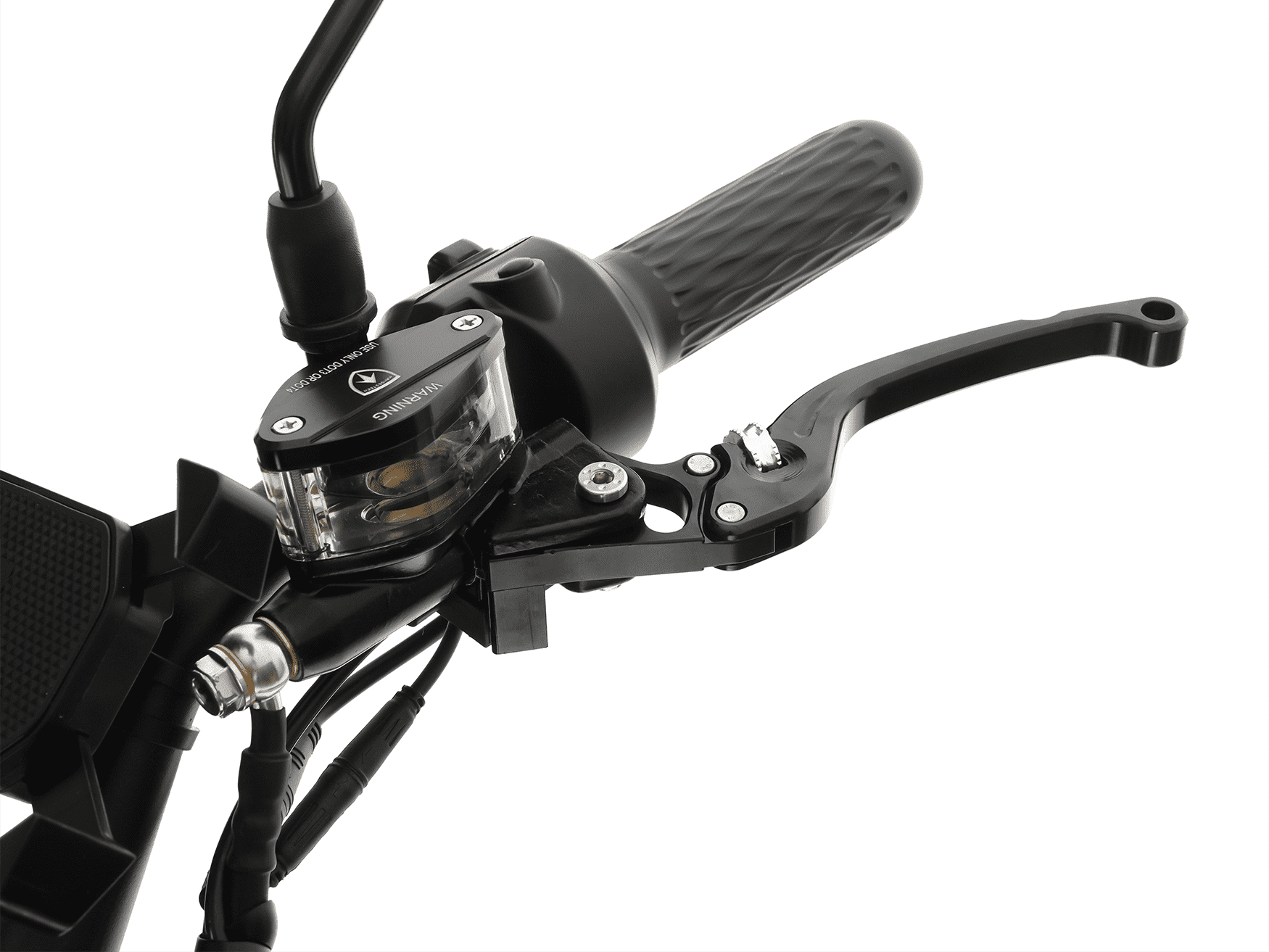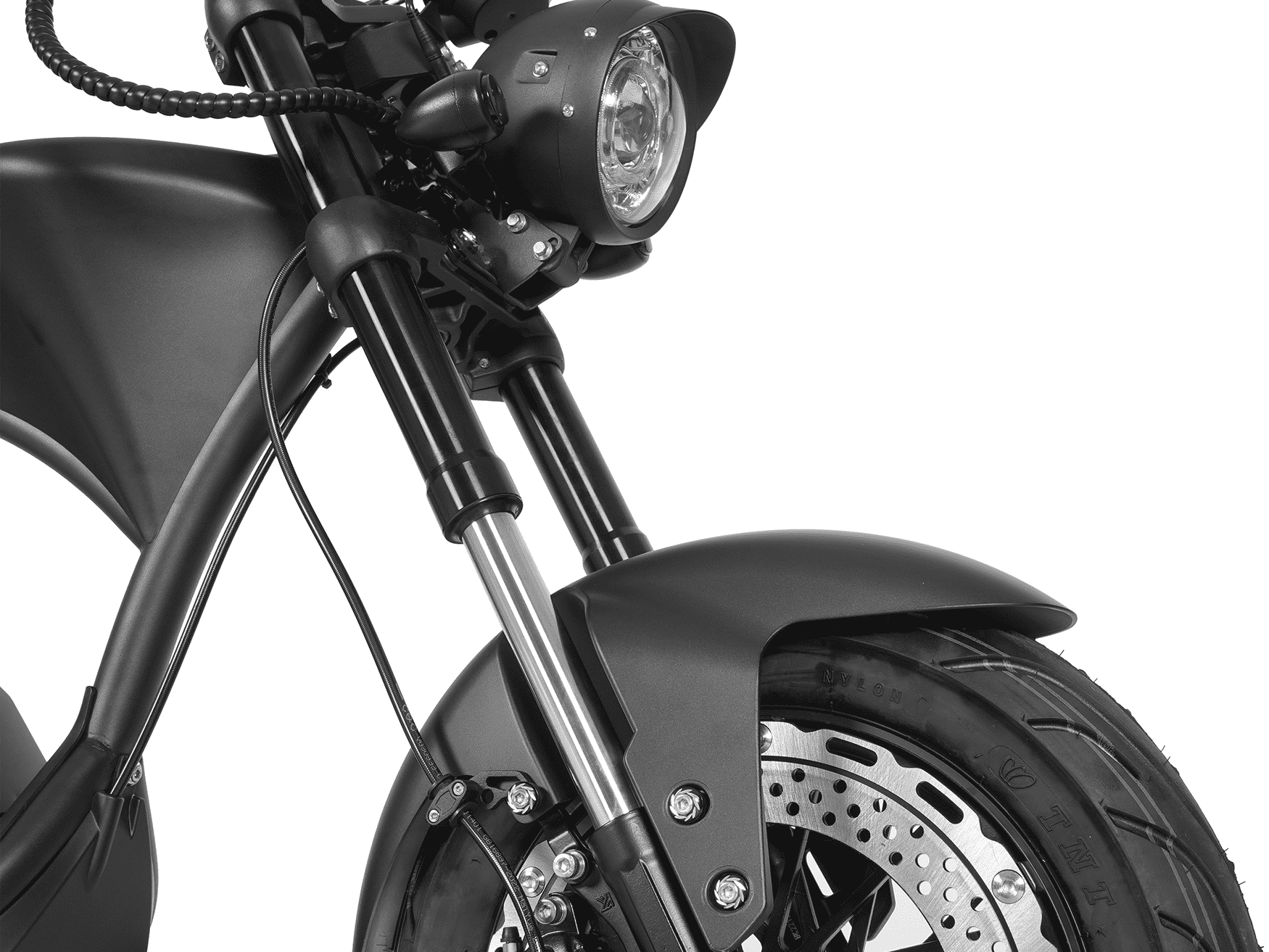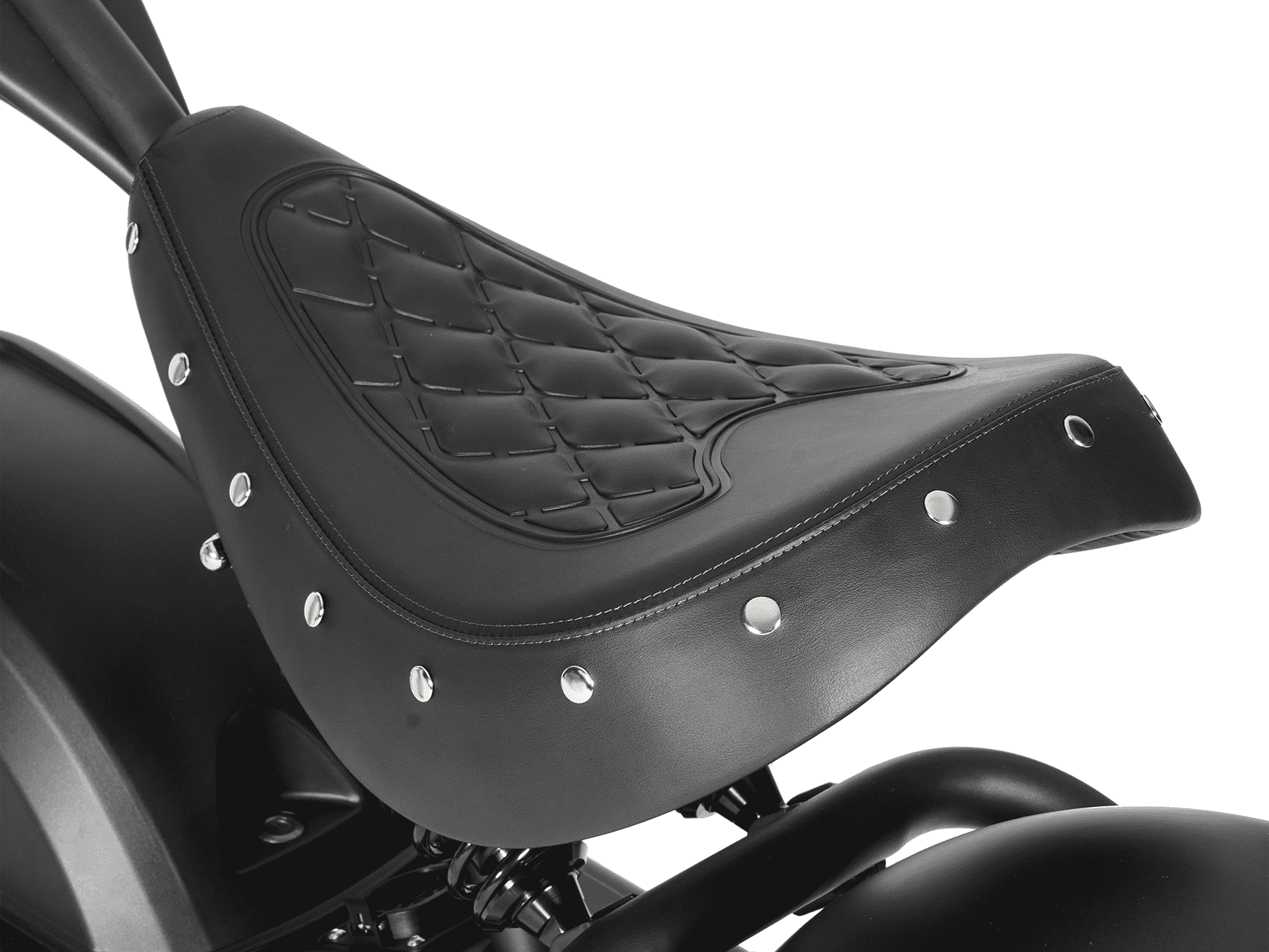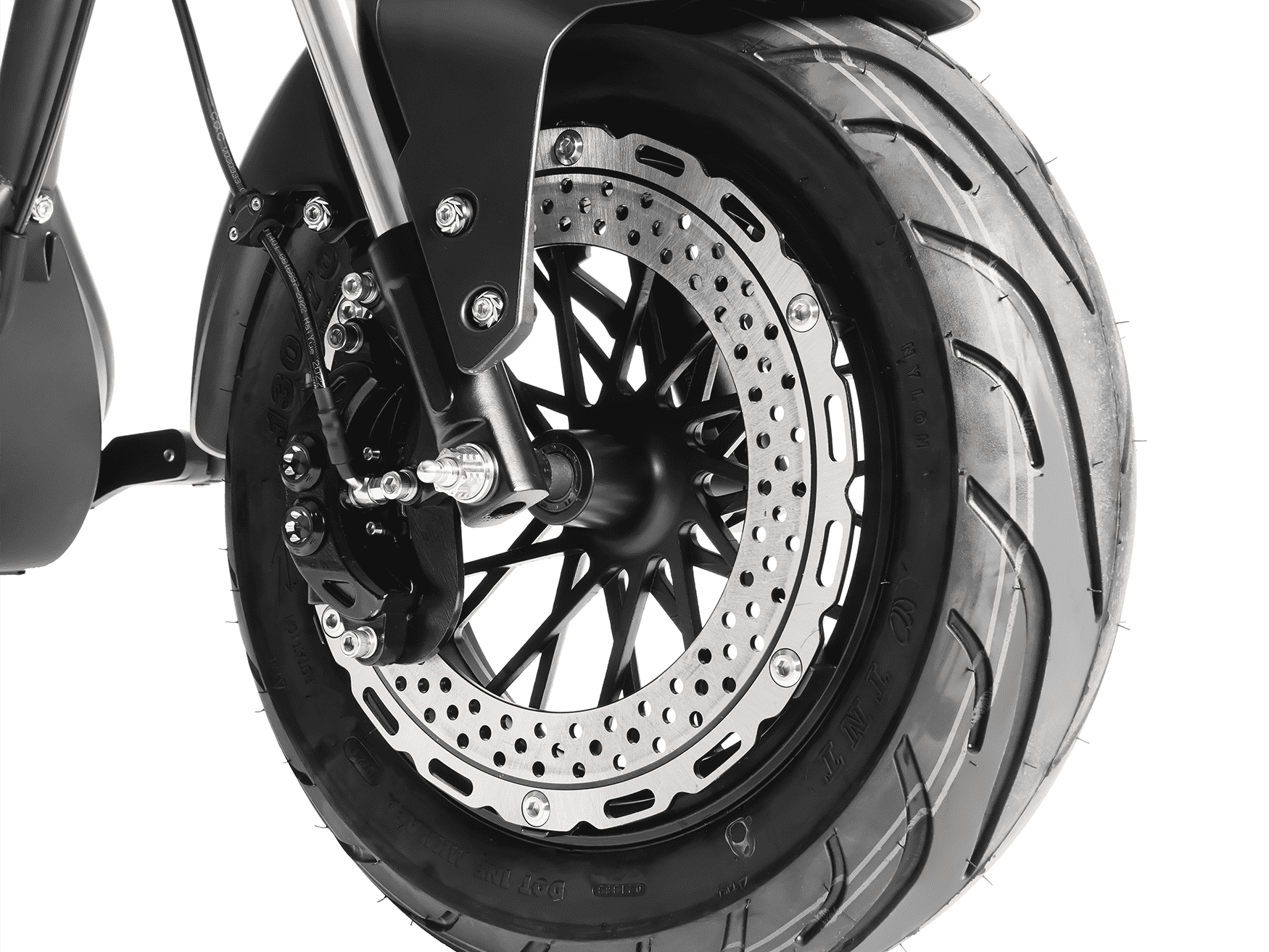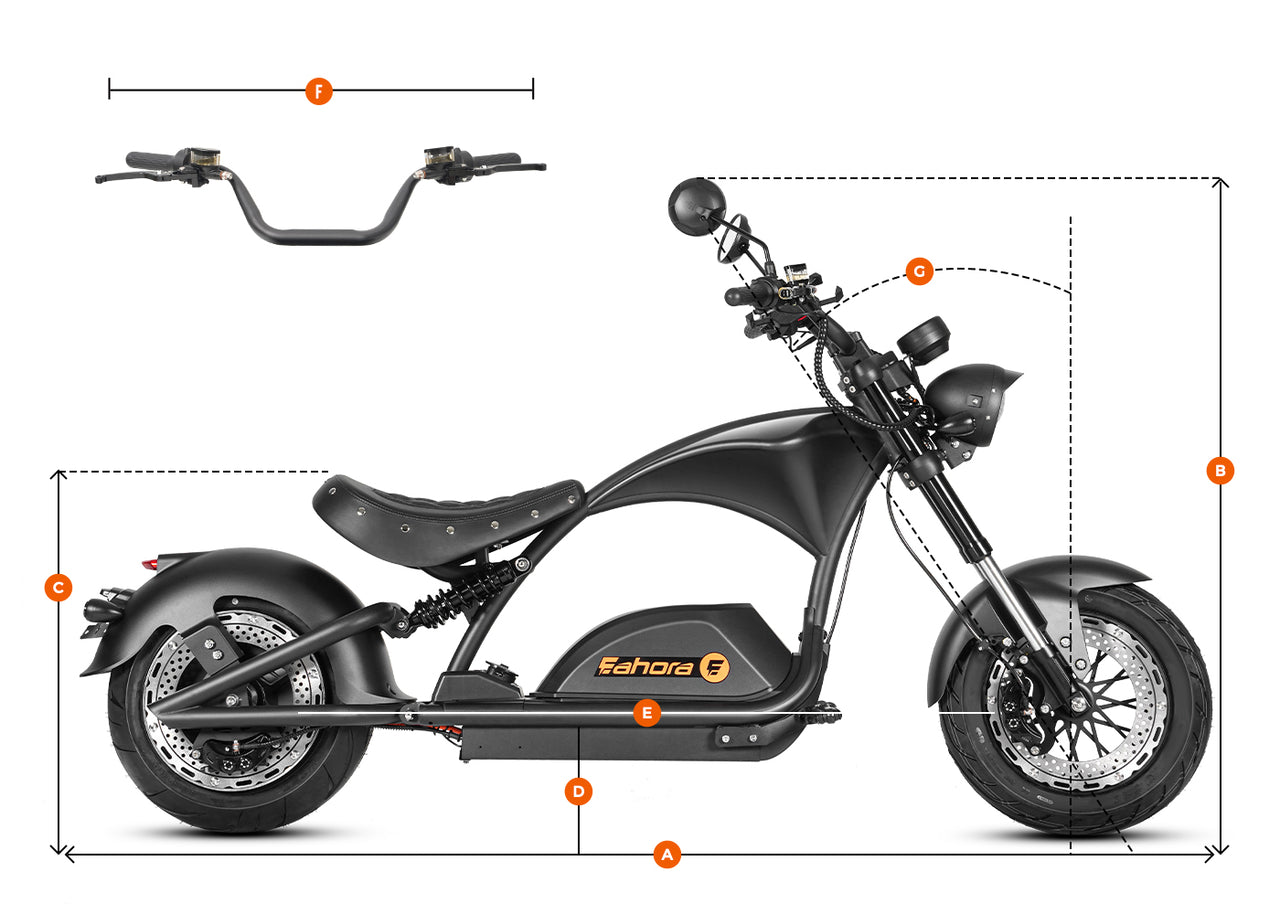 Size and Geometry
Recommended Rider Height: 5'4" - 6'2" or 165CM - 190CM
Ⓐ - Total Length: 80.91'' or 205.5CM
Ⓑ - Handlebar Height: 40.6'' or 103CM
Ⓒ - Seat Height: 25.4'' or 64.5CM
Ⓓ - Ground Clearance: 4.53'' or 11.5CM
Ⓔ - Wheelbase: 60.2'' or 153CM
Ⓕ - Scooter Width: 32.3'' or 82CM
Ⓖ - Rake: 40°
Technical Specifications
To ensure uninterrupted suppluying and shipping, some parts may differ from those listed. Rest assured, our engineers rigorously test each component to guarantee quality and compatibility.
Scooter Weight
187.4 lbs in total with the battery.
Payload Capacity
Recommend rider weight within 440 lbs.
ELECTRONIC SYSTEM

Motor

4000W brushless DC geared motor(Brand: QS Motor) with 178 NM max torque

Battery

72V 40AH SAMSUNG lithium battery with BMS (2.88 KWH)

Charger

72V ~ 13A fast charger (Charging time: 3-4 Hours), with anti-overcharging feature

Display

IP6 color LCD display(showing MPH) with speedometer, odometer, trip odometer, throttle gear and more

Controller

72V 70A integrated controller with P gear (Brand: YQ Controller)

Lights

12V LED Headlight
Front: high low beam with turn signal light
Rear: integrated taillight with brake light, turn signal light and license plate light

Kickstand

Kickstand with electirc cut-off

Wiring

Waterproof Integrated Harness

Waterproof Rates

IP66 Waterproof, including motor battery and wiring.
SCOOTER COMPONENTS

Brakes

Hydraulic disc brakes with DOT 3 braking fluid (Brake rotor size: F 318 MM / R 318 MM)

Hub Wheel

Aluminum 12IN Rims(Width: F 10.8IN / R 10.8IIN )

Tires

With an average lifespan of 6200 miles, TNT Straight grain vacuum tubeless tires (F: 120/40-12 ; R: 215/40-12)

Fork

Hydraulic shock suspension(Length: 28.1IN )

Rear Suspension

Hydraulic adjustable double suspension

Grip

Comfort rubber ergo grips

Seat

Straight grain synthetic leather seat(Size: 19.7*13IN )
How to register scooter?

Over 20 states have successfully registered scooters for street legal riding.
All models can be tracked down on DOT official site by querying unique frame code.
Every scooter comes with Manufacturer's Certificate of Origin. Provide MCO to DMV when you register.
The Knight M1PS's performance exceeded my expectations; Do not think twice. Just go for it!
I've been yearning for a scooter for breezy rides during my summer holidays along the Jersey shore. The hour-long ordeal of maneuvering cars and hunting for parking near the beach can test anyone's patience. Most folks facing this predicament resort to a Vespa, but it didn't have that unique cool factor I was after. When I saw this scooter online, it seemed too good to be true. But wow, this thing is beyond cool. I got my Knight M1PS last week, and I must say my wife and I are having a blast. Riding it gives me a sense of freedom words can't quite capture. It's not only a head-turner; the quality is also absolutely top-notch. People ask about it everywhere I go.
The Knight M1PS's performance exceeded my expectations - its speed, handling, and battery life are even better than advertised. The customer service was warm and responsive, and shipping was prompt.
Do not think twice. Just go for it!
BEST BIKE EVER!!!!
This is my 3rd bike from Eahora and it is by far the best! The quality & performance of this bike are OUTSTANDING! Surprisingly, the M1PS is slightly smaller than the M1, but it feels more planted and sturdy! Acceleration will sit you back in your seat, and the climbing power is awesome! Not to mention it is an absolute head turning conversation starter! I am constantly stopped or approached by people who all walks of life who just want to know "WHAT IS THAT AND WHERE CAN I GET ONE?" I added some bat wing side view mirrors to complete the "look"! I have only had this bike for a week and have already put over 150 miles on it! Battery life is so much better than the than M1. I ride on the highest speed setting and it still gets me all around town for at least 2 days without having to charge it. If you ride during the day you can turn the headlight off and conserve battery power. I usually keep the daytime running led on just to add visibility for drivers around me. I am in the process of registering it with the California DMV, just waiting on my completed title from Eahora. (The first title was missing a required stamp) In California this bike is considered a Motorcycle if you want to register it. However, if you are okay with staying in bike lanes and residential streets, it is completely street legal as is! This was verified by a Police Officer who pulled me over mistakenly thinking it was a traditional chopper with no license plate. After finding out it was indeed a scooter he proceeded to break down the law for me....he also said he's "Buying One". The price tag is a little hefty, but if you can afford it GET ONE! You will NOT be disappointed.
Awesome
AWESOME, Love every bit of it!
Love the Knight M1PS
I had the 60v 2k motor M1P but found its range and power lacking for my taste. The Knight M1PS is heavier and feels more planted which makes for a smoother rie and the 72v power delivered to a 4k watt motor delivers smooth power on demand with increased range. I really like this bike.